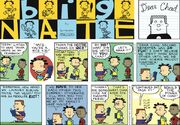 Tasha is a student attending P.S. 38. According to Nate, she is very attractive. She also seems to like Chad Applewhite.
Near the end of the year, she signed Nate's yearbook, writing that he was nice. When Chad asked her to sign, Tasha spent at least ten minutes writing more than a page of text for him, indicating that she may like him. Chad later revealed this to Nate and their friend, Teddy Ortiz.
Behind the Scenes
She has appeared in recent comics.
Ad blocker interference detected!
Wikia is a free-to-use site that makes money from advertising. We have a modified experience for viewers using ad blockers

Wikia is not accessible if you've made further modifications. Remove the custom ad blocker rule(s) and the page will load as expected.