School Picture Guy is the photographer of P.S. 38 and one of Nate Wright's mentors. He wears a bandage on his forehead. He was also found doing other jobs, such as the fair as a clown. He lives in his mother's basement. When Nate gets his picture, it is always bad.
When he was a kid, he went to robotics camp.
He lives in the basement of his mother's house, where he watches a lot of Star Wars and Star Trek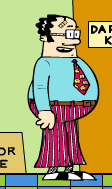 Appearence
In the black & white Big Nate comic strips, we do not know much about what he wears. But, in the Big Nate Island, it shows that School Picture Guy looks like in color. He has a bandage on his forehead, he had a tie with happy faces, and looks similar to Principal Wesley Nichols.
Gallery
Behind the Scenes
He is into Star Trek.
He also a Mall Cop
Ad blocker interference detected!
Wikia is a free-to-use site that makes money from advertising. We have a modified experience for viewers using ad blockers

Wikia is not accessible if you've made further modifications. Remove the custom ad blocker rule(s) and the page will load as expected.