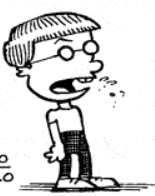 Peter Mason (b.
12 May
, 2009) Is mainly known as
Nate
's book buddy in school. He is incredibly smart, and reads at a college-level, although he is only a first grader in
Mrs. Bigbee's
class. When he pronounces the letter "s" as "sh" and he spits all over the person he is talking to. Not much is known about him except that he attends school in
Nate Wright
's former classroom.
Nate's Summer Camp
Nate had the idea of a summer camp in 2006. Peter's Mom signed him up for it, but only because his mother missed the deadline for Robotic's camp. This started to make Peter mad at Nate. They did a Nature walk, which had no nature except Spitsy. Then, the scavenger hunt was to force Peter into buying Nate free food. He finally got Peter occupied with a New York Times Crossword Puzzle, but then he solved it instantly. They had a "Campfire", which was just an imaginary one and it was at ten thirty in the morning. They did water sports, but it only was Marco Polo in a inflatable pool. It's also revealed that they played Duck Duck goose, but with only two people. Peter was the first and only member at Nate's fiasco summer camp ever. This ultimately lead to Peter being angry at being Nate's book budy.
Relationships
All is known is that he has a crush on Amanda and is practically an enemy of Nate.
One more thing...
He is a minor character in the series. Peter's speech impediment is similar to Nick Blonsky's as seen in Big Nate: Flips Out.
Gallery
Ad blocker interference detected!
Wikia is a free-to-use site that makes money from advertising. We have a modified experience for viewers using ad blockers

Wikia is not accessible if you've made further modifications. Remove the custom ad blocker rule(s) and the page will load as expected.