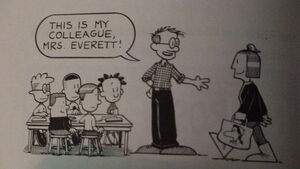 Mrs. Everett is the art teacher at Jefferson Middle School, Jefferson Cartooning Club"s faculty advisor and is Ken Rosa's colleague. She meets the Doodlers and says there are about thirty boys and girls at her C.I.C. and shows them Jefferson's drawings. They are stunned by the drawings - even expert doodler Artur Pashkov is caught off balance. She later appears as a judge in the Ultimate Snowdown announcing that P.S. 38 are the winners.
Gallery
Appearances
Ad blocker interference detected!
Wikia is a free-to-use site that makes money from advertising. We have a modified experience for viewers using ad blockers

Wikia is not accessible if you've made further modifications. Remove the custom ad blocker rule(s) and the page will load as expected.