Jefferson Middle School
is the biggest rival of Nate's school,
P.S. 38
. Their students are very boastful, and they beat P.S. 38 at almost everything, as said by Nate. Their mascot is the Cavalier.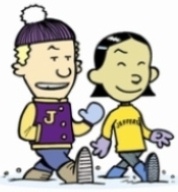 Description
Interior
When Nate Wright and his friends enter the school building, they find that the school is so fancy, that they can barely tell it is even a school. There are glass cases everywhere, which were filled with trophies. There are murals covering the walls, and even a skylight. There is even a rec room for kids to use during free time. In their cafeteria (which they call a food court), there is a soft serve ice cream machine and better, more varied food is served there. In the auditorium, the seats even recline.
Students and Staff
The principal is Mrs. Williger and Mrs. Everett is in charge of the schools cartooning club.
Currently as of now, we only know the principal, Ms. Everett, Nolan, Jefferson Girl, Emma, and some of the students from the school, because the last time the school was described, it does not give away so much of the staff and students there.
Behind the Scenes
Although Nate, Francis and Teddy hate Jefferson students, they love the food served at Jefferson.
The mascot of Jefferson is the Cavalier.
They have been beaten three times, the first being before the series began, the second being in Big Nate Goes For Broke, and the third being in Big Nate Blasts Off.
Gallery
Ad blocker interference detected!
Wikia is a free-to-use site that makes money from advertising. We have a modified experience for viewers using ad blockers

Wikia is not accessible if you've made further modifications. Remove the custom ad blocker rule(s) and the page will load as expected.