Jeff is a student at P.S. 38. He does not seem attractive, as Nate said if Jeff can find a girlfriend, so can he. His Thanksgiving leftovers he had for lunch were also displeasing to Nate, as he asked Sheila to remind him to never attend a holiday celebration at Jeff's house.
Once, Nate asked him if he wants to be the first member of his posse. Jeff got worried because he thought he had to be tazed to join the posse. Jeff also returned Nate his lucky socks but he washed them.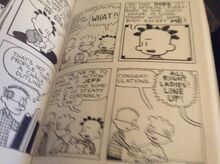 Ad blocker interference detected!
Wikia is a free-to-use site that makes money from advertising. We have a modified experience for viewers using ad blockers

Wikia is not accessible if you've made further modifications. Remove the custom ad blocker rule(s) and the page will load as expected.