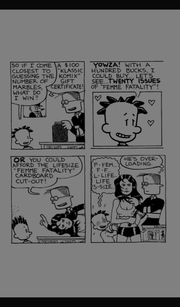 Femme Fatality is a comic book series by Brad Linsky that Nate Wright loves. He buys them from Klassic Komix, a comic shop at the mall. Nate describes the comic as "the best comic in the universe". Some of the characters in the comic series include Femme (female protagonist) and Doctor Jackal (a very evil villain). Although we do not know exactly what it is about, it is mentioned multiple times in the "Big Nate" series. and it can be assumed that it is action-oriented.
Nate's dad doesn't approve of Femme Fatality, as he thinks it's violent and very suggestive. Though he thinks it's provocative at times, he is seen begging to read it or even stealing it wherever Nate left it.
History
Nate Wright was into Red Sonya when he discovered the series. He is shown to have a crush on the hero, Femme. He also introduced the series to Peter, his book buddy. Before Marty Wright admitted he liked Femme Fatality, he had been secretly been reading Nate's issues of them.
Appearances
January 16, 2002
January 7, 2017
Behind The Scenes
Nate and his dad both have a crush on Femme.
Attributes
Six foot two
Immortal
Vindictive
A vampire