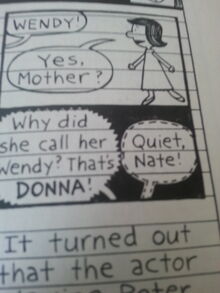 Donna is a minor character who appears in "Big Nate On A Roll."
Biography
At an unknown point, Donna became a babysitter. When Marty Wright was thirty-six years old, he paid Donna to babysit his children, Nate and Ellen Wright. In the mix, she won the main role of Wendy in a play for "Peter Pan." In her first scene, Nate inquired why the actress for Mrs. Darling called Donna "Wendy", only for Marty to shush him. So, Nate failed at life.
Physical Appearance
Donna is tall and slender. Her hair is dark and done up in a bob.
Personality and Traits
Donna is hardworking and skilled at acting; otherwise she would not be a babysitter and have such a major role in the play.
Ad blocker interference detected!
Wikia is a free-to-use site that makes money from advertising. We have a modified experience for viewers using ad blockers

Wikia is not accessible if you've made further modifications. Remove the custom ad blocker rule(s) and the page will load as expected.