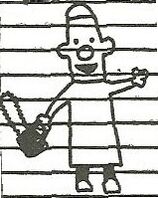 Doctor Cesspool is the main character in a comic series of the same name that was written by Nate Wright.
When Cesspool was a child, he loves baseball. But he suffered from a near-fatal head injury when got hit by a line drive. His skull is now one-half steel. He is licensed as a qualified surgeon in 43 states.
Appearances
Big Nate On A Roll
In this book, Doctor Cesspool is seen in a comic where he saves a patient by rearranging his limbs, infuriating Doctor Arch-Enemy.
Big Nate Goes for Broke
In this book, Cesspool saves the Mayor's life.
Relationships
Nurse Maureen Biology
Ad blocker interference detected!
Wikia is a free-to-use site that makes money from advertising. We have a modified experience for viewers using ad blockers

Wikia is not accessible if you've made further modifications. Remove the custom ad blocker rule(s) and the page will load as expected.