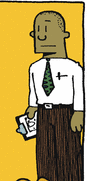 Calhoun is the current gym and health teacher at P.S. 38. Whenever Coach Calhoun is not teaching Coach John takes over, much to the kids dismay. He is commonly called Coach and is a Coach for P.S. 38's basketball and soccer teams. He also is a little league baseball Coach. He is often good with Nate, but has ether benched or sent him to detention for various reasons. Coach John may be his friend, but they have differences and Coach Calhoun usually gives kids a chance.
Biography
Calhoun coaches the P.S 38 sports teams, which usually lose, but normally it is Nate's fault, as he cannot concentrate well in games.
He also teaches health, and his lecture on puberty was called "Puberty: The Magical Mystical Tour"
Regarding Jefferson, he says that they are all winners, and he appears in a comic saying it is "okay for them to lose.
Calhoun reminds Nate and Artur Pashkov about Field Day. During the event, he made Gina the captain, and he also reprimanded Nate for insulting her.
Trivia
He is rated as 'mad monthly' in Nate's 'P.S. 38 ANGERGRAPH!'
He is enemies with the Jefferson soccer coach
He is a Detroit Tigers fan
Gallery
Ad blocker interference detected!
Wikia is a free-to-use site that makes money from advertising. We have a modified experience for viewers using ad blockers

Wikia is not accessible if you've made further modifications. Remove the custom ad blocker rule(s) and the page will load as expected.