Brad Macklin

Gender

Male

Occupation

Student

Likes

Unknown

Dislikes

Getting hit with carrot sticks.

Friends

None

Enemies

People who throw carrot sticks at him.
"Stop it, you ruffians!"
―Brad Macklin
Brad Macklin is an what seems to be an unpopular student who attends P.S. 38. When Nate talks about Period 4 (Lunch), he says "You eat as quickly as you can. Then you spend the rest of the time checking out girls and throwing carrot sticks at Brad Macklin". He was not seen in the rest of the book. But he made an appearance in Big Nate: In The Zone and Big Nate Lives It Up.
Personality and Traits
"...he's just too much of a wuss wagon to get in trouble."
―Nate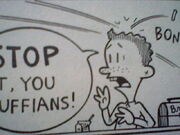 Brad is a "wuss", according to Nate. He very rarely gets punished for bad reasons.
Trivia
Brad Macklin is rated the fifth least likely person to get detention, according to Nate, who wants implies that Brad is too wussy to get into trouble.
He was in the scavenger hunt on Artur's team: "Artur's Army."