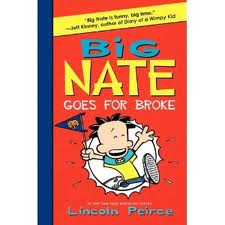 Big Nate Goes for Broke
is the fourth Big Nate book of the novel series. The book was released on March 20, 2012. 
Plot
Jefferson Middle School has always (with the exception of a debate) beat P.S. 38 at almost everything. Nate decides it is time for P.S. 38 to surpass them for once, but this will not be easy when a sprinkler malfunction has messed up P.S. 38 and caused the students to have to stay at Jefferson until the problem is resolved.
Behind the Scenes
On Page 118, Dee Dee does not have long earrings unlike most of the book. On page 208, Nate has his cast off. But during the rest of the book, starting on page 138, Nate's cast is on.
Characters Appearing For The First Time
Ad blocker interference detected!
Wikia is a free-to-use site that makes money from advertising. We have a modified experience for viewers using ad blockers

Wikia is not accessible if you've made further modifications. Remove the custom ad blocker rule(s) and the page will load as expected.