Big Nate: What Could Possibly Go Wrong? is comic book that was released on May 1, 2012. It was made by Lincoln Peirce.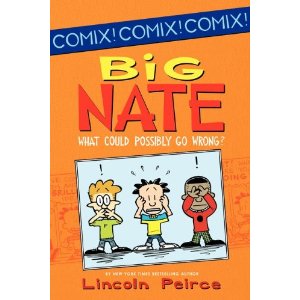 Official Description
Big Nate
is awesome! Did you know that
Nate's
the star of his own comic strip? Check it out! Will Nate get away with his master plan? Or will Mrs. Godfrey catch him in the act? Find out what happens next! Plus, bonus Big Nate material in the back!
Trivia
The phrase/quote "What could possibly go wrong?" is very common.
Ad blocker interference detected!
Wikia is a free-to-use site that makes money from advertising. We have a modified experience for viewers using ad blockers

Wikia is not accessible if you've made further modifications. Remove the custom ad blocker rule(s) and the page will load as expected.